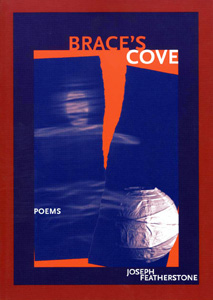 New Issues Press, 2000
$14.00, 73 pages
Buy: Amazon | IndieBound

The poems of Brace's Cove consider the seemingly random connections between the cosmos and our daily lives. As Featherstone see it, "we are as close to heaven / as it gets," and even "the Milky Way pouring down" is reflected in smaller ways so that we may witness its routine: "Waterlilies, filling with rain, / tipping, filling again." The greater foretells its microcosms, much as waves report momentum for a larger body when they break against a cove then ebb again to open water. The poet recognizes the wearing-down such a process brings, but sees this erosion as necessity rather than diminishment, a recognition that even the sun seems to uphold: "Such radiance – / rinsing the broken world clean." Featherstone's poems work a similar magic, casting their considerable light on the small moment or particular to reveal the vastness that informs it.
Memory echoes through Joseph Featherstone's poems like a wind, sometimes gentle, sometimes wild. He stands in it bravely and without illusion, making this wry, witty un-selfpitying, utterly candid music while time and death threaten to take it all away. For all their defiance and the frequent harshness of their circumstances, these poems manage a sweetness and grace that I find as moving as they are rare.

Rosellen Brown
Brace's Cove is a remarkably beautiful first book of poems. These poems are unembellished, permeable, musically sweet, riddled with necessity. Featherstone is urgent and authentic and wild with clarity; he has the gift of truth.

Lucie Brock-Broido
In Featherstone's world one finds an unusual blend of deep sensibility with a reliable strength. Anyone who cares for poetry will be rewarded by going straight out and acquiring this book.

Josephine Jacobsen
Sample Poems from Brace's Cove